* * * * *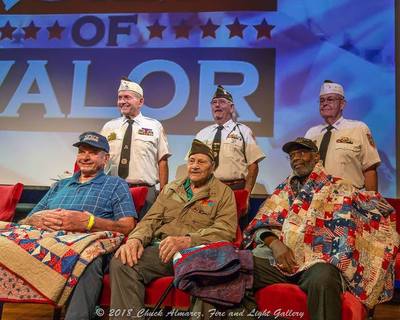 Veterans honored at Heritage Day's 2018 Quilts of Valor Ceremony at The Historic Masonic Theatre. Standing, from left to right: Paul Linkenhoker, Johnny Taylor, Bill Atherholt; VFW representatives. Sitting, from left to right: William Darfow Rice James William (Neighbor) Smith Sr., Talmadge Leon Goode, honored veterans

Four veterans will be honored at 2019's Ceremony. Their names will be released on June 1 at the Ceremony. (Photo courtesy of Chuck Almarez)


Quilts of Valor Presentation Scheduled At Heritage Day




Clifton Forge, VA (May 10, 2019) - On Saturday, June 1 at 1:00 pm on the stage of the John E. Hillert Auditorium of The Historic Masonic Theatre, hand-made quilts will be presented to four area veterans representing two different wars (WWII and the Korean War), in honor of service to their country, during the Quilts of Valor Presentation at during Alleghany Highlands Heritage Day & C&O Railway Festival. The public is invited to attend.

Quilts of Valor Foundation began in 2003 with a dream. Founder Catherine Roberts' son Nat was deployed in Iraq. According to Catherine:

"The dream was as vivid as real life. I saw a young man sitting on the side of his bed in the middle of the night, hunched over. The permeating feeling was one of utter despair. I could see his war demons clustered around, dragging him down into an emotional gutter. Then, as if viewing a movie, I saw him in the next scene wrapped in a quilt. His whole demeanor changed from one of despair to one of hope and wellbeing. The quilt had made this dramatic change. The message of my dream was Quilts = Healing.

I knew a Quilt of Valor had to be a quality-made quilt. A Quilt of Valor had to be quilted by hand or machine. Quilts of Valor would be 'awarded', not just passed out like magazines or videos. A Quilt of Valor would say unequivocally,'Thank you for your service, sacrifice, and valor' in serving our nation in combat".

The first Quilt Of Valor was awarded in November 2003 at Walter Reed Army Medical Center (WRAMC) to a young soldier from Minnesota who had lost his leg in Iraq. From there, the movement spread across the nation through the power of word-of-mouth and the Internet. Over 185,000 quilts have been awarded through the program. Catherine Roberts recalls:

"The team consisted of a quilt-topper, a person who pieces the top from various fabrics, and a quilter who uses a "longarm" quilting machine to create beautiful machine quilting".

The group's mission statement reads, "The mission of the Quilts of Valor Foundation is to cover service members and veterans touched by war with comforting and healing Quilts of Valor."

In the early days of the organization, the primary focus was on awarding quilts to service members wounded in the Iraq (OIF) and Afghanistan (OEF) conflicts. Before long, the non-profit foundation's goal changed to cover ALL physically or psychologically wounded service members with a freedom quilt, honoring them for their sacrifices. Catherine Roberts remembers:

"As we were awarding quilts, the Vietnam vets said over and over again, "Ma'am, this is the first time in forty years anyone has ever thanked me for my service."

The four veterans from Alleghany County will be honored by a Quilts of Valor organization from Staunton.

Alleghany Highlands Heritage Day & Railway Festival is celebrating its eighth anniversary of honoring the heritage of the Alleghany Highlands, and Virginia's role in the formation of our country ....1619 to today. Continuous entertainment in story and song, food from around the globe and our own backyard, quilt exhibits and demonstrations, vendors and displays that entertain, educate and enchant. The Festival takes place in downtown Clifton Forge, at the beautifully restored Historic Masonic Theatre, Alleghany Highlands Arts & Crafts Center, the Masonic Amphitheatre, Clifton Forge Public Library, Clifton Forge Presbyterian Church and Clifton Forge School of the Arts. Travel down the road a block and find more music, food, demonstrations, vendors and displays at the C&O Heritage Center. 1619 was a pivotal year in the establishment of the first permanent English colony in North America. It was the year of the first representative legislative assembly in the New World, the arrival of the first recorded Africans to English North America, and the recruitment of English women in significant numbers. Celebrate a day of Virginia milestones with history, food, music and fun...the eighth annual Alleghany Highlands Heritage Day & Railway Festival!

Alleghany Highlands Heritage Day & Railway Festival is Saturday, June 1 from 10:00 am to 5:00 pm--a one-day, rain or shine event with free admission. Every attempt has been made to include many indoor activities just in case rain should fall. This year's event is graciously sponsored by Highlands Community Bank, SONA Bank, ACE Hardware sponsoring the trackless train, Ingevity, WestRock, Alleghany County, Alleghany Highlands Arts & Crafts Center, Alleghany Highlands Chamber of Commerce & Tourism, Alleghany Historical Society, C&O Railway Heritage Center, Clifton Forge Main Street, Town of Clifton Forge, Olde Town Covington, Covington/Hot Springs Rotary Club sponsoring the WANNABEATLES 2019 Tour, VFW Post 1033, Clifton Forge Woman's Club, Friends of Clifton Forge Public Library, Clifton Forge School of the Arts, Clifton Forge Presbyterian Church, Historic Masonic Theatre. Special thanks to APP iStudio and COV Designs.
* * * * *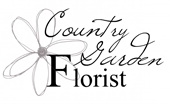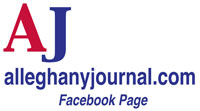 BACK TO THE JOURNAL'S HOMEPAGE!
* * * * *
KEEP UP WITH THE LOCAL NEWS! SIGN UP FOR ALLEGHANY JOURNAL BREAKING NEWS BELOW!
FREE Breaking News Sign Up Here!
---