!-onMouseover Link CSS Script-© Dynamic Drive (www.dynamicdrive.com). For full source code, installation instructions, 100's more DHTML scripts, and Terms Of Use, visit dynamicdrive.com-->

-->
* * * * *
Vice Mayor Richark Erksine chairs the July 29, 2021 Iron Gate Town Council meeting for the vacationing mayor Chuck Unroe


Iron Gate Town Council To Use Recovery Act Funds For Water Line Repair Expenses
New Lighting Slated For Town Hall, Fire Dept, To Get Its $15,000



Iron Gate, VA (July 29, 2021) - The Iron Gate Town Council dispatched its formal business in relatively short order this evening as vice mayor Richard Erskine conducted the session in the absence of vacationing mayor Chuck Unroe.

Here is a quick summary of approved council action:

• $15,000 in grant monies held for a required 30 day period for the Iron Gate Fire Department will be transferred to that organization immediately.

• new lighting for the town hall at a cost of about $1100 was unanimously approved. This will replace the old bulbs and fixtures with LED models

• a payment plan was approved for at least three residents were are currently behind on their utility bills. They must pay their current monthly bill plus 20% of the arrearage to remain in compliance.

• the use of American Recovery Act funds to handle the expense of repairing the major water leak on Tannery Road was approved unanimously. The bill, approximately $31,000, saved the town thousands of dollars in monthly water expenses due to a leak in a key 4" water line.

• council heard about a water line leak that was discovered between 7th and 8th St. which was recently quickly repaired via the replacement of about an eight foot section of iron pipe by Jerry Johnson and his crew.

• council also approved an adjustment to a water bill for a resident who didn't realize that a leaky hose had gone undiscovered while filling their swimming pool.

• noted that the town's dump truck had been advertised for sale and that the minimum bid of $6500 would be enforced - but in any case, all bids still could be rejected upon a vote of council.

• the council then entered into an executive session to discuss a legal issue.

• well-known Highlands area resident and Alleghany County Sheriff's Deputy Chris Fisher provided the invocation for the session.

* * * * *

The legal issue that council discussed in closed session was not disclosed, but it is known that the legal dispute with Jennifer Simpson remains unresolved, despite letters from opposing counsel being exchanged. Ms. Simpson's attorney previously has claimed that his firm is owed as much as $60,000 in legal fees, but that claim has been thoroughly and repeatedly rejected by Iron Gate's counsel.
* * * * *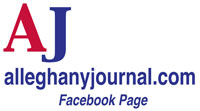 BACK TO THE JOURNAL'S HOMEPAGE!
* * * * *
KEEP UP WITH THE LOCAL NEWS! SIGN UP FOR ALLEGHANY JOURNAL BREAKING NEWS BELOW!
FREE Breaking News Sign Up Here!
---