!-onMouseover Link CSS Script-© Dynamic Drive (www.dynamicdrive.com). For full source code, installation instructions, 100's more DHTML scripts, and Terms Of Use, visit dynamicdrive.com-->

-->
* * * * *
From left to right are Covington School Board candidates (for two open positions for one year) Marie Fitzpatrick, Jay Woodson and Lee Roe.


Covington City Council Examines Three School Board Candidates
Council Questions Staff More About Soft Billing For Emergency Services
By Jerry E. Clark


Covington, VA (June 1, 2021) - The Covington City Council held both a called meeting and work session this evening at Curfman Hall,

The crowd size varied from just one to a maximum of four people to hear the proceedings.

Council members questioned three candidates vying for a total of two school board seats for a one year term.

Mayor Tom Sibold specifically pointed out the one year term to each of the candidates at the outset of their testimony. Those candidates for Lee Roe, Jay Woodson and Marie Fitzpatrick.

The Journal will have video of the question and answer sessions coming up later.

With respect to the work session, council read a resolution honoring Roanoke Valley-Alleghany Regional Commission former exec. director Wayne Strickler for decades of service.

• will make two appointments to the Alleghany Highlands Regional Library Board next Tuesday and will take action on the school board appointments at that time as well.

• council will conduct a public hearing on its budget on June 8th, which includes a five-cent real estate tax increase.

• will deal with a resolution for the sale and award of a general obligation bond not to exceed $3,000,000, which basically long-term finances the road repairs it conducted this past summer

• will consider a resolution setting the allocation percentage for Personal Property Tax Relief for the 2021 tax year

• and will consider a resolution authorizing the annual application to the Covington Police Dept. for the Patrick Leahy Bulletproof vest partnership.

• there was a lengthy discussion on (yet again) soft billing issues for emergency services and the reserve fund that increases via a 15% allocation of those soft-billings. The city manager said that she should have been more clear at the budget work sessions about how the system works and finance director B. B. Bryant went over the details of the financial arrangements.
* * * * *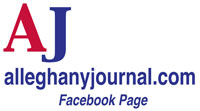 BACK TO THE JOURNAL'S HOMEPAGE!
* * * * *
KEEP UP WITH THE LOCAL NEWS! SIGN UP FOR ALLEGHANY JOURNAL BREAKING NEWS BELOW!
FREE Breaking News Sign Up Here!
---