!-onMouseover Link CSS Script-© Dynamic Drive (www.dynamicdrive.com). For full source code, installation instructions, 100's more DHTML scripts, and Terms Of Use, visit dynamicdrive.com-->

-->

* * * * *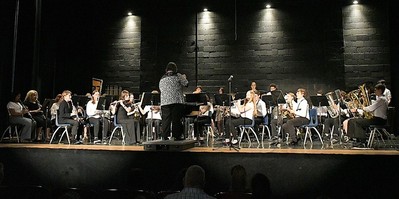 The Central Highlands All-Area Middle School Band performs at Covington High School's Curfman Hall on Saturday, April 30. The band included eighth-grade students from Covington High School. (CCPS Photo)


Local Students Participate In All-Area Band Concerts




Covington, VA (May 9, 2022) - High school and middle school students from Covington City Public Schools and Alleghany County Public Schools participated in recent honor band concerts.

Members of the Central Highlands All-Area Middle School and High School Bands were selected through auditions that were held in November. The concerts were held at Covington High School on April 30 after being postponed in January due to the COVID-19 pandemic. 

Students from Alleghany, Bath and Rockbridge counties participated. Schools represented in the all-area bands included Alleghany High School, Bath County High School, Covington High School, Parry McCluer High School, Rockbridge County High School, Lylburn Downing Middle School, Maury River Middle School, Parry McCluer Middle School, Millboro Elementary School and Valley Elementary School. 

Forty-six students chosen for the all-area high school band. Thirty-six students were selected for the middle school band. 

"The All Area Band is a prestigious group and I am very proud of the students who were able to be selected. I am thankful for the other directors and parents who helped make it possible to host such an event," said Kaitlyn Peters, the music director at Covington High School.

Covington High School students selected for the Central Highlands All-Area High School Band were Gabriela Taylor, flute; Cheyenne Craft, flute; Megan Rickett, clarinet; Kristen Weinger, clarinet; Kaitlyn Petrero, trumpet; and Desmond Taylor, trombone.

From Alleghany High School, the band included Ryan Moles, flute; Mason Dawson, horn; Maddi Brown, clarinet; Landon Mullikin, clarinet, Abby Palella, clarinet; Daniel Curtis, timpani; Ian Kerns, trumpet; Aiden Williams, trombone; and Ethan Nicely, tuba.

The Central Highlands All-Area Middle School Band included three eight graders from Covington High School: Elijah Fasig, oboe; Kathryn Johnson, clarinet; and Kenny Sprouse, trumpet.  

The high school band was directed by Sheba Lane, who works at Blue Ridge Community College in Weyers Cave as a career coach. She holds a bachelor's degree in music education from James Madison University. She also received a master's degree in educational leadership from JMU.

The high school band performed "Black Forest Overture" by Michael Sweeney, "Jurassic Park" by Williams/Michael Sweeney, "The Cave You Fear" by Michael Markowsky, and "Afterburn" by Randall Standridge.

The middle school band was directed by Mario Ruiz, who is in his first year and band director at Brookville High School in Campbell County. A graduate of Radford University with a bachelor's degree in music, Ruiz taught for nine years at Altavista Combined School, and one year at West Lee Middle School in North Carolina.

The middle school band performed "America the Beautiful" by Robert Smith, "Anasazi" by John Edmundson, "Asian Folk Rhapsody" by Richard Saucedo, and "Imperium" by Michael Sweeney.    

Band directors who assisted with the concerts included Ms. Peters and Julia Fabian of Alleghany High School.
* * * * *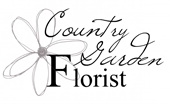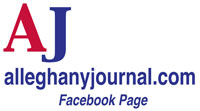 BACK TO THE JOURNAL'S HOMEPAGE!
* * * * *
KEEP UP WITH THE LOCAL NEWS! SIGN UP FOR ALLEGHANY JOURNAL BREAKING NEWS BELOW!
FREE Breaking News Sign Up Here!
---