!-onMouseover Link CSS Script-© Dynamic Drive (www.dynamicdrive.com). For full source code, installation instructions, 100's more DHTML scripts, and Terms Of Use, visit dynamicdrive.com-->

-->

* * * * *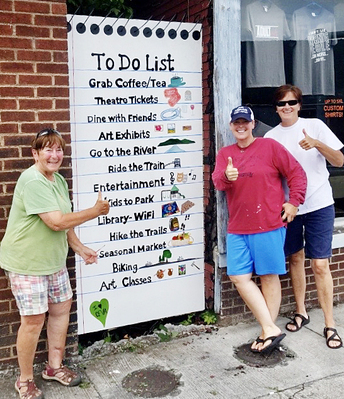 The people from left to right installing the "TO DO LIST": Mott Atherholt, Martha Atherholt, Wendy Hudler


Third Public Art Piece Installed in Clifton Forge




Clifton Forge, VA (July 6, 2020) - The Public Art Subcommittee of the Vision 2025 Corridor Curb Appeal group installed the third piece of public art in Clifton Forge recently.

The art piece is a list of "to do's" to accomplish while in Clifton Forge—everything from purchasing Theatre tickets to stopping for a cup of coffee. The list of "to do's" was created by local artists Kaarn Thomas and Nancy Newhard and was inspired by a similar list in Ireland that Mott and Bill Atherholt had seen while visiting.

The very large "TO DO LIST" can be found next to Earl's Automotive on Main Street and was installed by Mott, Bill and Martha Atherholt, members of the Corridor Curb Appeal Public Art Committee and Wendy Hudler, member of the Architecture Review Board that approved the sign.

"It was so exciting to see our newest Public Art piece, the "TO DO LIST" installed on Main Street", remarked Mott Atherholt. "Our small public art project group, part of the Clifton Forge Vision 2025 Corridor Curb Appeal Committee, plan to meet soon and begin our next public art project. These projects are a colorful and fun way to call attention to our Historic Downtown Arts and Entertainment District. What and where will our next project be? Be on the lookout when you are in Clifton Forge." 

Nancy Newhard said, "The "TO DO LIST is just a fun reminder for residents and visitors of the many wonderful things there are to do in Clifton Forge- rain or shine! It was fun to work on, but especially so because of Kaarn Thomas' EXCELLENT lettering work. We split the list for the images, but when I got stuck, a quick look at her letters got me going again every time".

Members of the Public Art Subcommittee were responsible for the painted steps on Race Street — the Keswick Street Steps. The step artwork was designed and painted by middle-school students in Kaarn Thomas' art club in 2019. Several volunteers from the community also helped to paint the steps. The colorful bicycle created by Crystal Wiseman on Ridgeway near SONABank was also a project initiated by the Public Art Subcommittee.

Studies have shown that public art adds enormous value to the cultural, aesthetic and economic vitality of a community. Public art contributes to a community's identity, fosters community pride and a sense of belonging, and enhances the quality of life for its residents and visitors.


* * * * *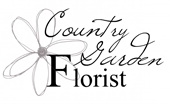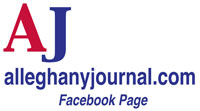 BACK TO THE JOURNAL'S HOMEPAGE!
* * * * *
KEEP UP WITH THE LOCAL NEWS! SIGN UP FOR ALLEGHANY JOURNAL BREAKING NEWS BELOW!
FREE Breaking News Sign Up Here!
---